Statements
The goal of my studio practice is to create and exhibit sculptures that show my dedication to industrial craft, trade skills, material purity, and a commitment to continuing my growth into the contemporary art world. Beyond this passion for material and process mastery, I aim to distill the struggles inherent within modern society, specifically in the blue-collar community I was raised in, into subtle gestures of human and machinery forms that can emotionally share a connection with the viewer.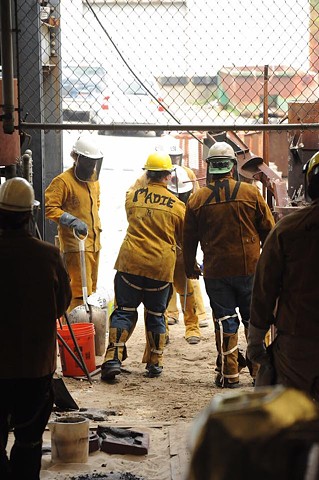 In my current studio practice, my creations are an attempt to understand my own mental illness within a culture that ignores mental health. As a long time sufferer of depression, bipolar, and anxiety; I see myself growing used to the darkness and loneliness associated with these illnesses. To gain new insight and understand the negative impact this has on my personal life I turned to my heritage as a laborer and the traditions of industrial craft. Through the skills and techniques of industrial craft and the manual labor of material manipulation I create objects that expose the vulnerability of mental illness in materials often associated with strength and permanence such as steel, iron, and wood.
I was born and raised in Cleveland, OH where I was immersed in the blue-collar world. As a result of this working class upbringing and my technical training, I was drawn to sculpture as an outlet for my creativity. I received my BFA from Bowling Green State University in 2010 and my MFA from East Carolina University in 2013. Currently, I work as Studio Technician and Adjunct Professor at the University of Southern Mississippi. An active participant in the artist community of cast iron art since 2006, I have kept myself bathed in the sparks of the furnace and currently serve on the steering committee for the 2017 & 2019 National Conference on Contemporary Cast Iron Art and Practices.