Statements
I was born and raised in Cleveland, OH where I was immersed in the blue-collar world. As a result of this working class upbringing and my technical training, I was drawn to sculpture as an outlet for my creativity. I received my BFA from Bowling Green State University in 2010 and my MFA from East Carolina University in 2013. Currently, I am the Foundry Director and Professor of Metal Arts at the University of North Carolina Greensboro
The goal of my studio practice is to create and exhibit sculptures that show my dedication to industrial craft, trade skills, material admiration, as well as a commitment to continuing my growth in the contemporary art world. Beyond this passion for material and process mastery, I aim to distill the struggles inherent within modern society into human and machinery forms that can emotionally share a connection with the viewer.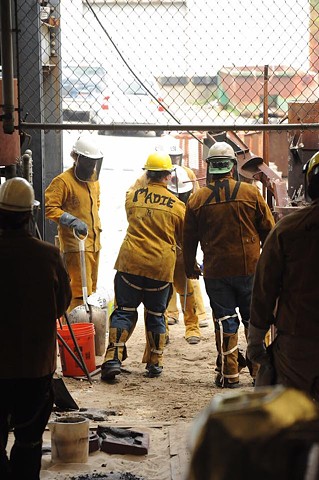 As I've grown as an artist I have found that my work is often made not for me but for others. I believe that through my art I can give voice to those who are often unheard in the art world. Historic/Eurocentric pedagogy has prevented and ostracized huge groups of people; from disinvested public schools and communities, to racists practices in the university and gallery systems. Institutions of fine art have long excluded non-white, queer, and neuro-atypical populations and made them feel unwelcome, or othered them into a pan representational minority. It is the job of the Artist to challenge this flawed system and work towards a place of respect and honor.
Learning to be more aware of my own place in this system and how I can better create an environment of acceptance and equal embrace within my art has been a challenge. Acknowledging my own privilege and complacency in the Eurocentric practices has been a struggle. This is necessary growth though, as the world cannot change if we all don't do our part. However long I continue to grow as a person through awareness of those around me, I will continue to grow as an educator and as an artist.

The studio has always been a place where I go to reflect on myself and the world around me. Foundry work and metal fabrication is a cathartic activity for me, as it offers a task that keeps me physically and mentally distracted from the problems surrounding me. This labor based release is a remnant of my blue-collar heritage in which self-reflection and deep thought is not afforded much respect. By using my time in the studio crafting metal sculptures that beg answers to the larger questions, I feel I am reclaiming the space for myself. Through the skills and techniques of industrial craft, emotional empathy, and a tongue in cheek humor I attempt to create objects that show both the technical skill of metal craft as well the emotional state of the artist.